Limited Time Offer
Complimentary Consultation ​​​​​​​Or 2nd Opinion
Includes Exam (D0150) And X-Rays (D0330)
Dental Implant Services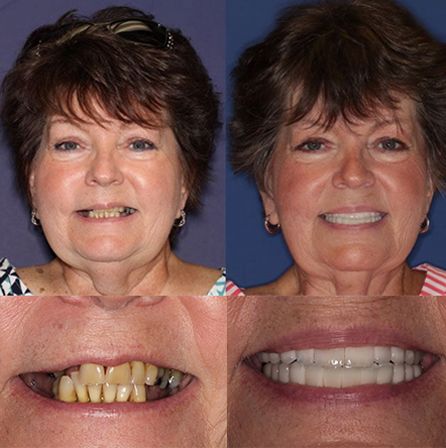 Linda/ Full Mouth Reconstruction with Dental Implants & Fixed Cosmetic Porcelain Bridgework
Linda had lost a number of teeth over the years due to advanced periodontal gum disease and her few remaining teeth were hopeless. She hated going to the dentist and was extremely fearful, so she avoided seeing a dentist for over 15 years. Her situation had gotten so bad, she was embarrassed to smile or show her teeth. She finally got to a point where she knew she had to do something.

She was referred to PGA Dentistry through a good friend. When she first met with Dr. Ajmo and his team, she quickly gained confidence in their ability and experience to treat people like her with the use of IV Sedation.

Under IV Sedation in one visit, Linda had all of her failing teeth removed, dental implants placed in her upper and lower jaws and immediate fixed cosmetic temporary bridgework placed. She experienced absolutely no stress or pain during or after her procedure.

She wore her cosmetic temporaries for three months, after which Dr. Ajmo fabricated and placed Custom Implant Abutments & Permanent Cosmetic Porcelain Bridgework.

​​​​​​​Now Linda speaks, eats & smiles as if she had healthy natural teeth. She looks younger, healthier & she feels great. A new smile has changed Linda's life in a big way.
"I got to a point where I knew I had to do something & I didn't want to go into dentures. This is one of the best things I've ever done for myself. It's totally changed my life."


Linda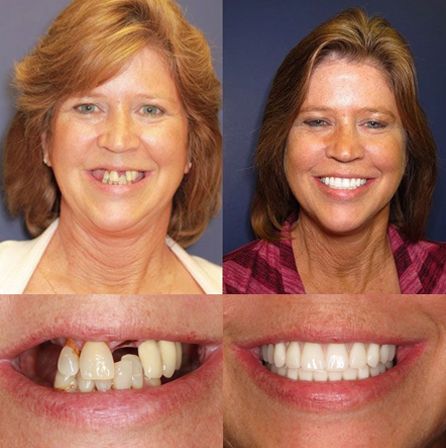 Denise / Teeth Next Day® & Cosmetic Zirconia Implant Bridge
Denise had only a few upper teeth left after losing most of her teeth from decay. She never wanted to have dentures like her parents, so she came to see Dr. Ajmo.

Denise had all her teeth removed, implants placed & Teeth Next Day* provisionals placed in one day. She experienced no pain during the procedure & was surprised how little discomfort she had after surgery.

Three months later, her provisionals were converted to a Permanent Zirconia Implant Bridge. Now she smiles with confidence.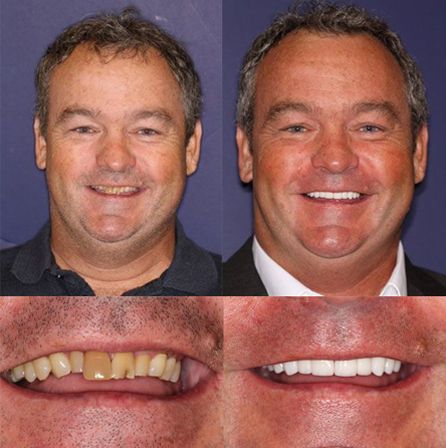 Tim/ Full Mouth Cosmetic Restoration
Tim suffered with unsightly brown teeth. He was also extremely fearful of the dentist & had avoided going for years. He wanted a bright healthy smile that was still masculine but made him feel more confident.

Unfortunately several of Tim's teeth could not be saved. Tim had 3 Dental Implant placed to replace the teeth he lost. Then Dr. Ajmo performed a Full Mouth Cosmetic Restoration with metal free Cosmetic Porcelain Crowns.

Now Tim looks & feels so much better. He has so much more confidence & smiles all the time.
"My teeth looked really bad & I knew I needed to have them fixed, but I was scared of the pain. When I heard about the IV Sedation at PGA Dentistry, I knew I could do it. Having this done has given me an immediate boost of confidence. My smile looks fantastic."


Tim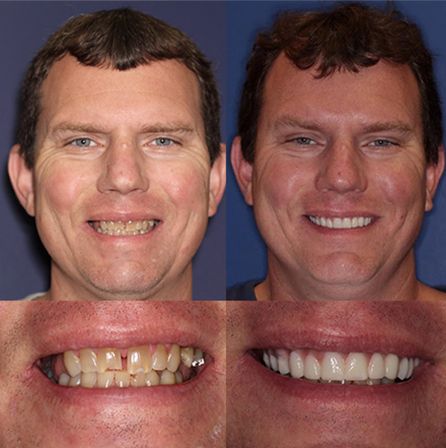 Jerry / Teeth Next Day® Upper Zirconia Implant Bridge
Jerry was missing most of his back teeth & most of his remaining teeth were cracked or broken. He was embarrassed to smile and even had trouble eating.
In one day, Jerry had all of his failing upper teeth removed and implants placed under IV sedation. Teeth Next Day* acrylic provisionals were immediately placed onto his new dental implants.
Three months later, the Teeth Next Day* was converted to a Cosmetic Zirconia Implant Bridge. The Zirconia Implant Bridge will never chip, crack or stain like acrylic does, so Jerry's teeth will continue to function and look great for years to come.
Now Jerry eats all the foods he wants and smiles with confidence.
"I was always self-conscious of my teeth and really embarrassed to smile. My wife encouraged me to get this done & I'm so happy I did. I look better and I feel so much healthier. Thank you, Dr. Ajmo & staff, for helping me smile again."

Jerry
Limited Time Offer
Complimentary Consultation ​​​​​​​Or 2nd Opinion
Includes Exam (D0150) And X-Rays (D0330)
Smile Gallery
The placement of dental implants is a complex surgical procedure that requires extensive training and experience to master. Throughout his career, Dr. Ajmo has been refining his approach to the art and science of implant dentistry, and has earned a reputation as a true innovator in the field, holding internationally recognized credentials in dental implant surgery and restoration.
All photos are of actual patients treated by Jay Ajmo, DDS, DABOI, DICOI
Dental Implant Location
PGA Advanced Dentistry Palm Beach Gardens Office 7100 Fairway Dr Ste 59
Palm Beach Gardens, FL 33418