Limited Time Offer
Complimentary Consultation ​​​​​​​Or 2nd Opinion
Includes Exam (D0150) And X-Rays (D0330)
Cosmetic Treatments at PGA Advanced Dentistry
At PGA Advanced Dentistry we understand that our patients are searching for cosmetic treatments to enhance and advance your smile. We offer porcelain veneers, teeth whitening, cosmetic crowns, smile designs and smile makeovers. Dr. Ajmo is experienced in combining two or more treatments to produce the best outcome for your smile. Contact us today if you're searching for a cosmetic dentist and want to learn more about how we can help you have the smile you've always dreamed of.
Experience
With nearly 30 years of exceptional practice in the dental field, Dr. Ajmo is one of the top dentists in South Florida. In addition to his numerous honors, certifications and awards, he was voted "South Florida's Most Distinguished Cosmetic Dentist" by The Best of South Florida and is widely recognized as a leader in the field of cosmetic and implant dentistry.
Since 1987, Dr. Ajmo has earned a reputation for outstanding customer satisfaction, superior quality dentistry and naturally beautiful smile designs. If you look at his before and after photos of his patients, you'll quickly see the difference.
Credentials
Jay L. Ajmo DDS, DABOI, DICOI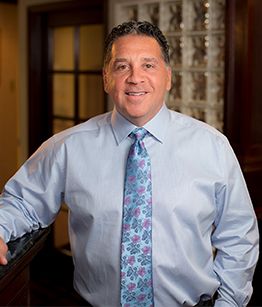 Diplomate Certified, American Board of Oral Implantologists

Diplomate Certified, International Congress of Oral Implantologists

Diplomate Certified, American Dental Implant Association

Mastership, Misch International Implant Institute

Masters, Rosenthal Institute for Cosmetic Dentistry

Member, American Academy of Cosmetic Dentistry

Member, American Society Dental Anesthesiology

Intravenous (IV) Sedation trained

Albert Einstein College of Medicine, Montefiore Medical Center
IV Sedation
Is the doctor certified in IV Sedation?
Dr. Ajmo is an active member in the American Society of Dental Anesthesiologists. He is the only Cosmetic Dental Implantologist offering IV Sedation in Palm Beach County and most of South Florida. What this means to you is you can be sure you'll be kept comfortable and relaxed throughout your implant procedures, even if you're fearful of the dentist. Dr. Ajmo and his certified team will monitor your heart rate, blood pressure, oxygen saturation levels as well as EKG during IV Sedation. Our facility is routinely inspected by the State of Florida Department of Health for safety, organization and quality of care. Our team consistently receives A+ ratings during inspections.
Dedicated Team
At PGA Advanced Dentistry, we strive to provide high-quality care in a professional and patient-friendly environment. Our dental team and office staff are highly trained in a wide range of advanced dental procedures ensuring your comfort and satisfaction are always a top priority. We are dedicated to exceeding your expectations for oral health. Each of our team members works hard to keep their skills and training current.
Complete Care in One State-of-the-Art Facility
Our Palm Beach Gardens practice is a unique state-of-the-art facility designed to make you feel relaxed, comfortable and stress free during your visits. We are equipped with much of the latest technology in dentistry including 3D CT Scans, Digital x-rays, digital impressions and lasers to provide optimum care with your total comfort and safety in mind. Offering all the latest forms of cosmetic, restorative and implant services in one location creates a setting designed for optimum treatment and outstanding patient satisfaction. Oral and IV sedation takes our patient care to a much higher level. All of our treatment suites are totally private and our team of professional staff will take extra special care to make sure you have a uniquely outstanding experience during your visits.
Limited Time Offer
Complimentary Consultation ​​​​​​​Or 2nd Opinion
Includes Exam (D0150) And X-Rays (D0330)
Dental Implant Location
PGA Advanced Dentistry Palm Beach Gardens Office 7100 Fairway Dr Ste 59
Palm Beach Gardens, FL 33418